The Industrial Revolution in Calderdale
From the late eighteenth century, technological innovation in the textile industry led to the proliferation of increasing numbers of water-powered cotton and worsted spinning mills and woollen scribbling (carding) mills - together with their dams, goits and sluices - in the tributary valleys of the Calder, and the need for more effective means of transportation resulted in the construction of canals and a network of turnpike roads along the valley bottom which progressively replaced the old hillside packhorse ways.
During the first half of the 19th century a second wave of industrialisation swept through the upper Calder valley, dramatically transforming the landscape and the whole social fabric of the district. With the introduction of steam power, the textile industry moved to the more accessible valley bottom settlements of Todmorden, Hebden Bridge, Mytholmroyd, Sowerby Bridge, Halifax, Elland and Brighouse, leaving more ancient communities stranded on the hillsides, and taking with it an expanding population of millworkers. In Halifax, steam powered textile factories spread rapidly however, and by 1850 there were 24 mills in the town, the largest of which were at Boothtown (James Akroyd & Son) and Dean Clough (John Crossley & Sons).
Rapid industrialisation was accompanied by dramatic demographic expansion, and by the middle of the century the population of Halifax had risen to over 25,000. Much of the urban growth during this period comprised a process of 'infilling', involving the intensification of the central built-up area and resulting in the creation of a series of congested commercial, industrial and residential courtyards or 'folds'. This development was accompanied and followed by progressive expansion from the central urban nucleus - initially to the West and the North - creating a Halifax 'conurbation' which led to the municipal annexation of adjacent territory in Northowram and Southowram townships.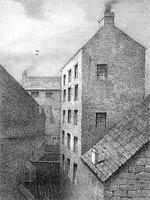 The appalling living and working conditions within these expanding mill towns initially went unheeded, and the new textile factories stood side by side with barrack-like back-to-back slums along the congested valley floors, whilst double-decker terraces clung precariously to the steep hillsides.
Read more:  http://www.calderdale.gov.uk/wtw/timeline/1810-1850/1810-1850-1.html